Fancy having a destination wedding in India? But, confused with the plethora of options available. Here is a list of 5 of my favourite destination wedding locations, that are not only beautiful, but are also easy to get to. I have photographed some really beautiful weddings at these destinations. Here are some notes that would help you pick the best location for your destination wedding.
Here's My Top 5 :  Goa, Mussoorie, Udaipur, Hyderabad, Jaipur
1. Goa – The most awesome Destination Wedding location in India
I love Beaches. Photographing a wedding in Goa is always a treat. It's a mixed bag of Breathtaking sunsets, Beautiful resorts, Churches, Portuguese architecture, Old monuments, Beaches, Greens, Mountains, Unpredictable skies, rain and the freedom to be away from the crowds – all at one place. It helps me create a variety of pictures – from Fun pre-wedding pictures at the beach, to some postcards around the monuments & resorts and some really mushy-romantic pictures at sunset. Being in Goa, at a beach resort also makes sure your traditional ceremonies get a fabulous tropical-look in the background.
It is a creatively satisfying experience to create compelling pictures in 
Goa
 while getting to know the couple better right before their Big Fat Destination Wedding, be a part of endless after-parties and beach-side ceremonies, Rain dances and informal beach cocktails – adding so much more flavour to the wedding.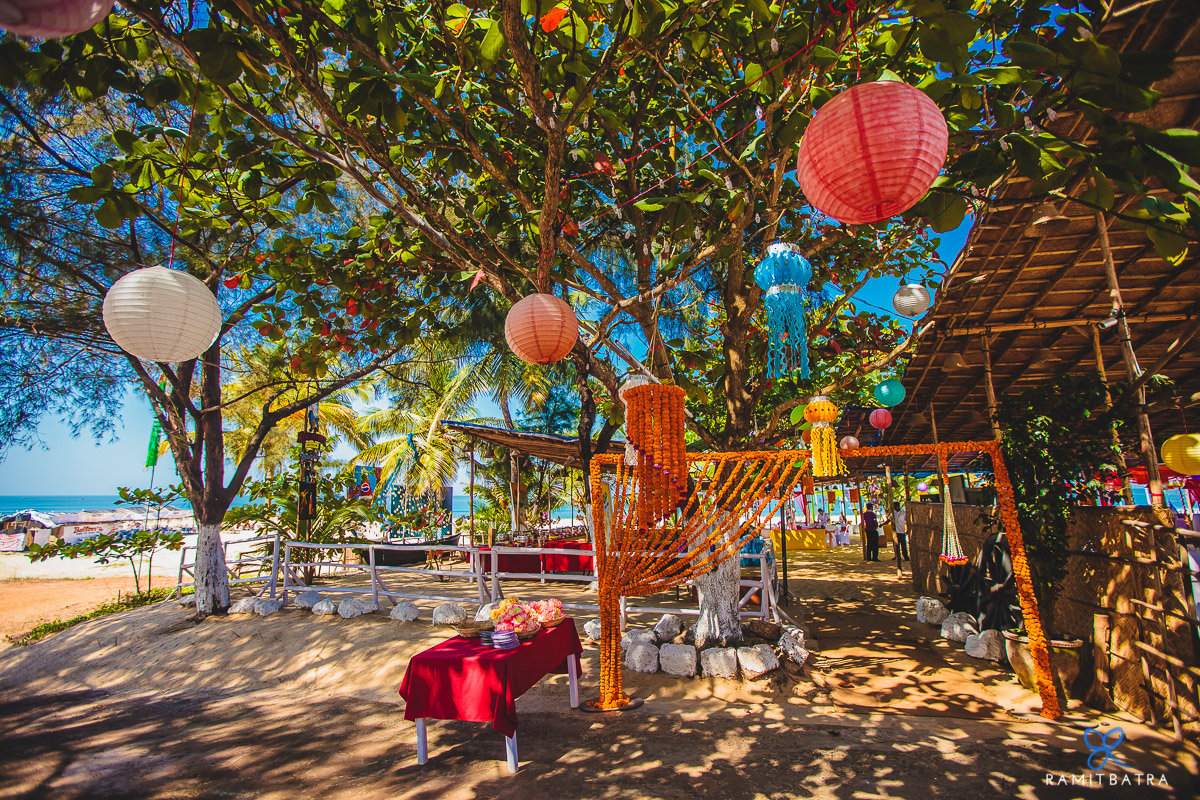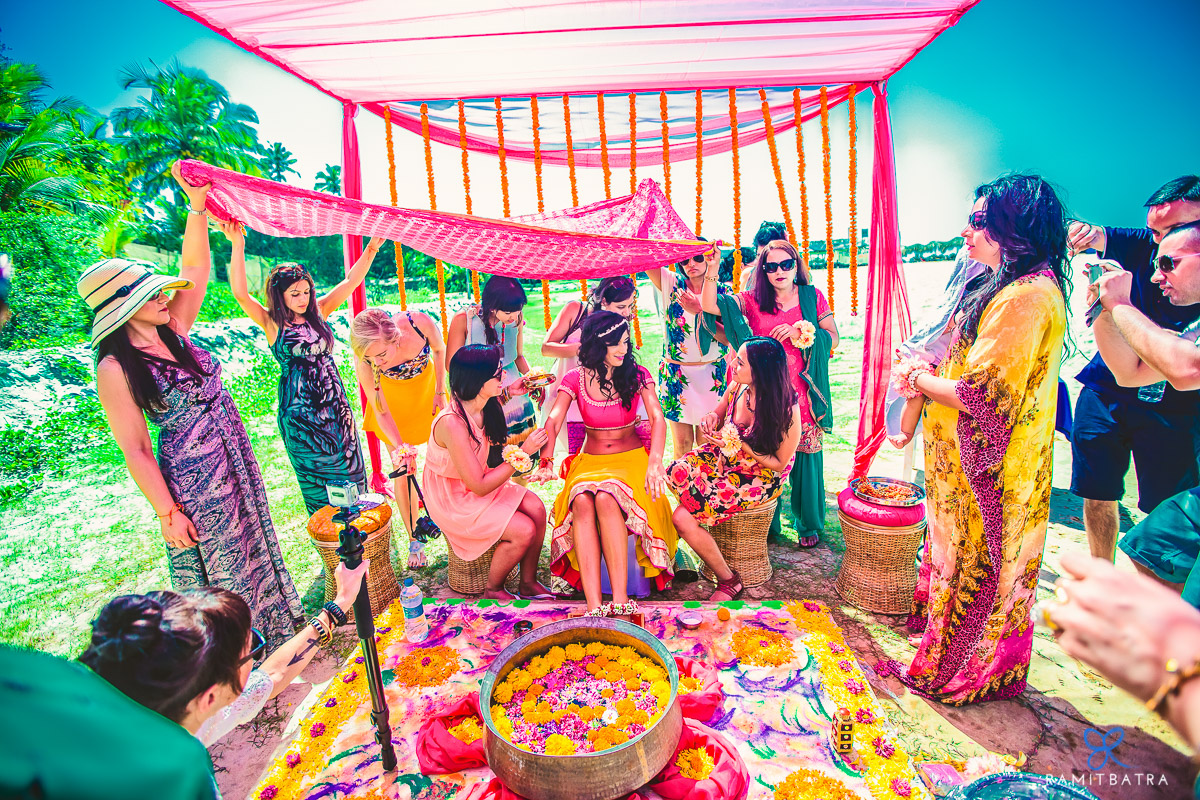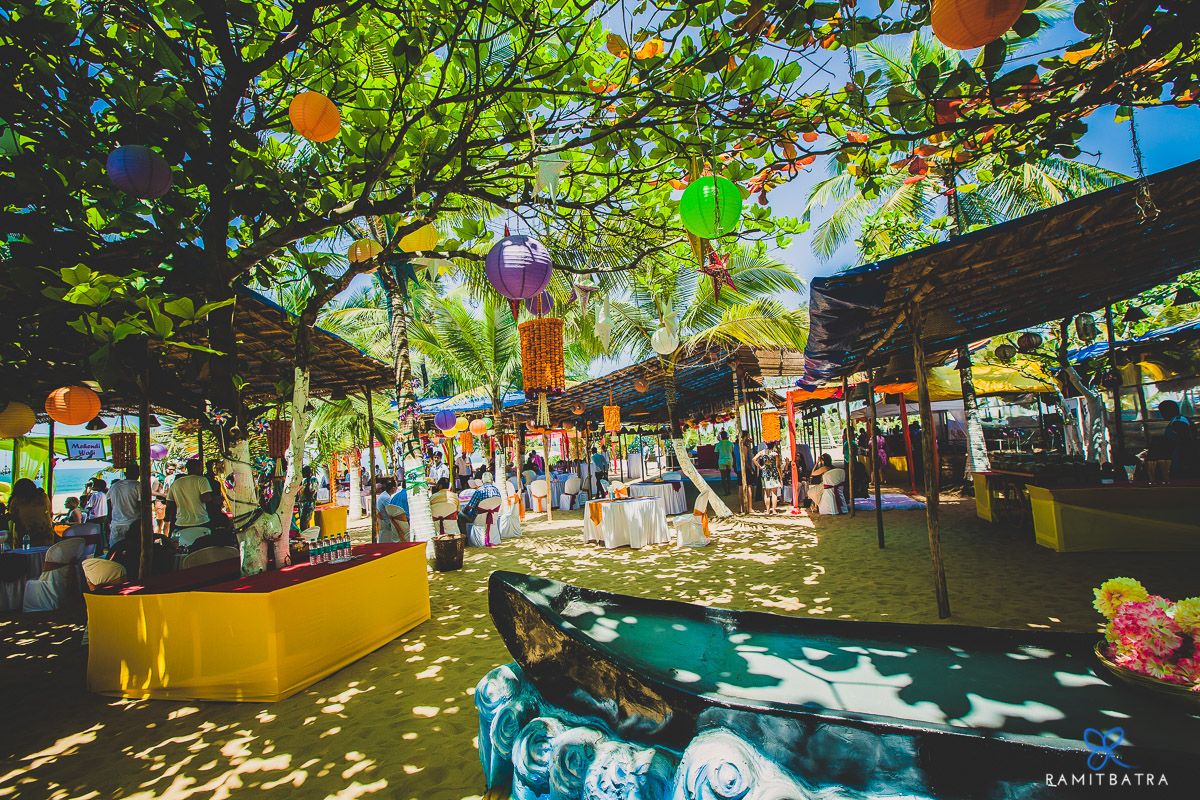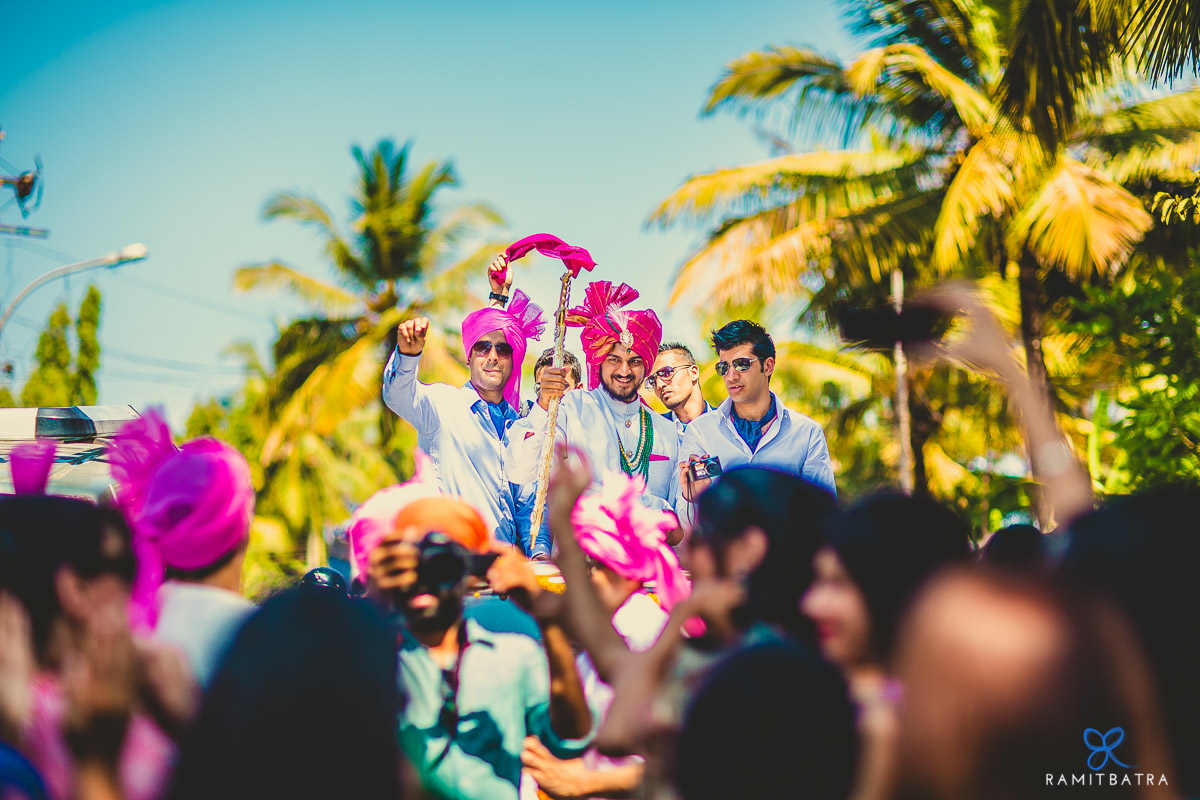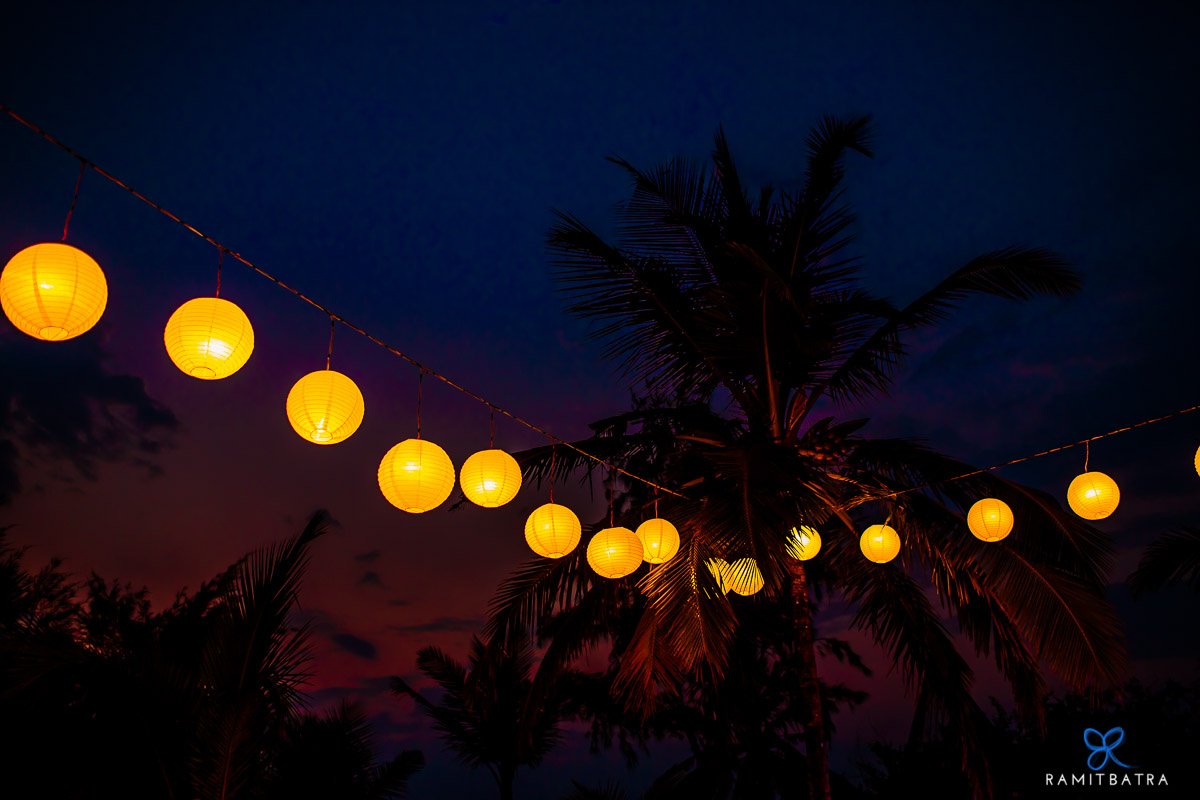 Advantages of hosting a destination wedding in Goa: Be it monsoons, or winter – you will have great weather, with a slight mix of unpredictability. Cloudy skies to clear blue skies, Heavy showers to hot spells – chances are you will get a mix of all of this over your wedding weekend.
Logistics: Most couples choose to have a destination wedding at a single resort like Park Hyatt. The 200+ portugese style villas take you away from the typical city/banquet wedding mindset. Huge Pools & several activities can keep you busy during the non-ceremony hours. Proximity to the airport, a private beach, wonderful hospitality (including an in-house wedding planning team), great location surrounded by Goan restaurants & shacks, and premium hotels & bungalows in walking distance to host additional guests/staff at the last minute.
For even bigger weddings, the Bride & Groom can have their families stay separately in two resorts which are not far from each other – say, Taj Exotica & Park Hyatt. Giving them a similar experience, plus the excitement of hopping from one resort to the other for different combined events like Sangeet, Wedding, Reception etc. and hosting independent ceremonies like Mehendi, Haldi in their respective resorts.
What to Keep in Mind: It can rain anytime – so double-check weather forecasts. Travel time if hopping resorts – If you have cars doing multiple rounds – this could mean 1-2hrs to transport 200 people from one resort to the other. Golf carts for intra-resort transit – Limited golf-carts might mean that guests will have to wait during the rush-ceremony hours or will have to walk to the beach. 10pm shut-down time for Shacks & Events which have Music – Which means that you would need to host after-parties Indoors.
Best Time of the Year to host an event: All year long. Nov-Jan (perfect weather), Oct & Feb (slightly warm), March-May (unpredictable, hot & rainy, perfect for indoor weddings with outdoor fun activities – you would get the best deals during these months), June-September (Monsoon, crazy rains, Goa at its 'Green' best)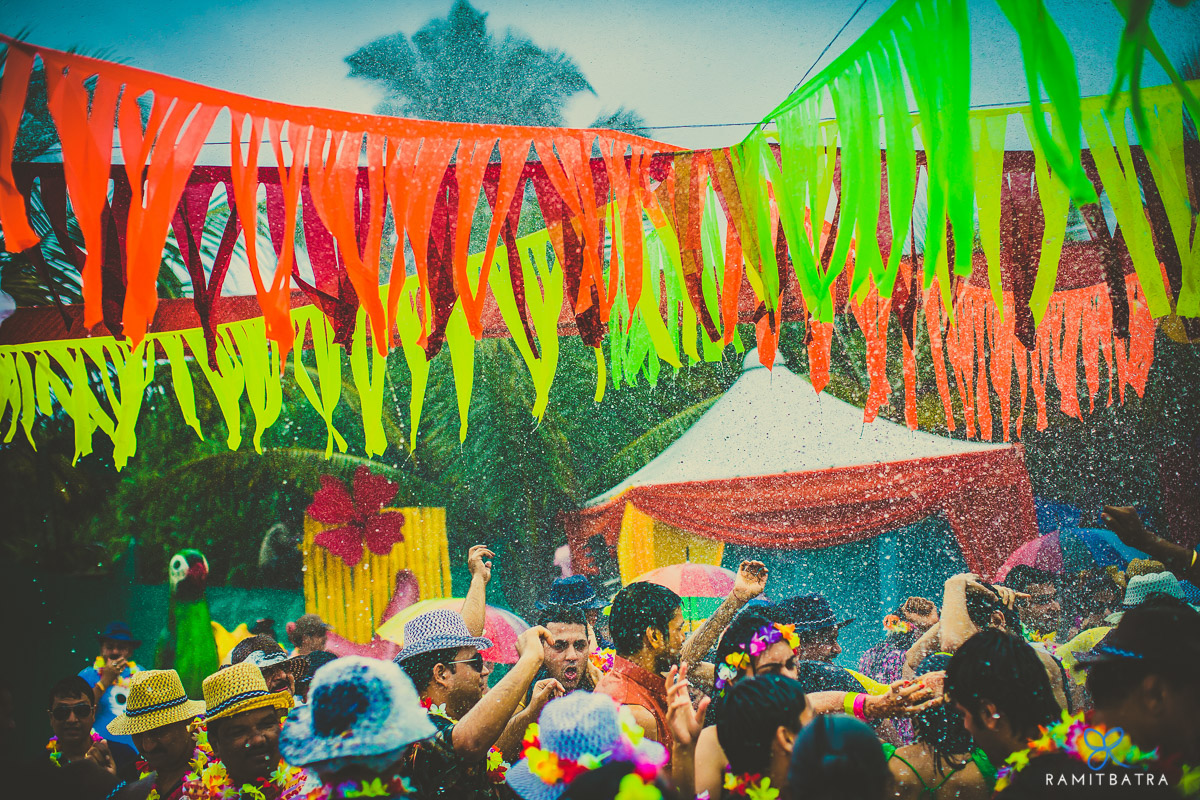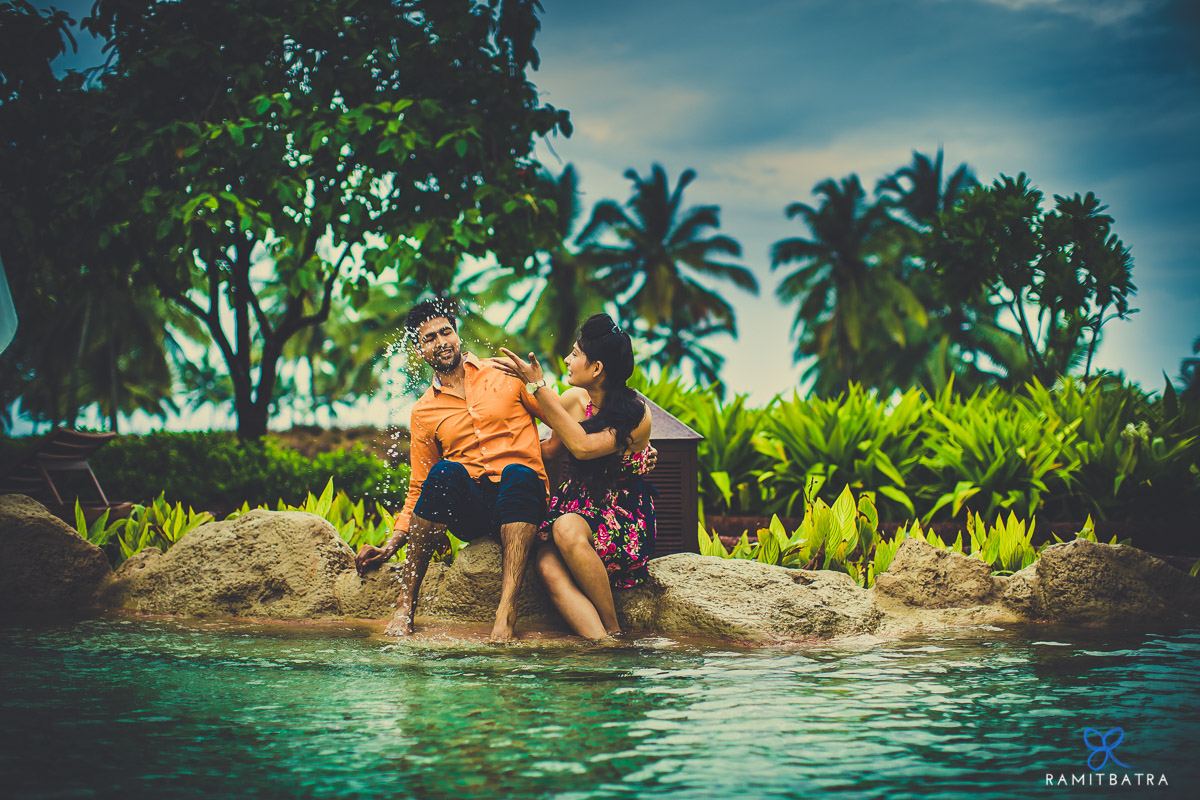 2. Mussoorie – Say 'I do' atop of The Queen of Hills
Mussoorie is the place where Hill station post cards are made! Beautiful tree-covered hills looking down the Doon valley, the surreal view of the Himalayas at sunset, and clear skies giving you a brilliant display of twinkling stars of the milky way & the flickering lights in the valley. It has a wonderful romantic air to it. Long Pines, Canals, Beautiful Orchids, Waterfalls and beautiful architecture makes it a heaven for pre-wedding pictures. The beautiful Sunsets also make sure that you get really awesome ceremony pictures for those early evening functions.
It's a great get-away in Summer months, especially for folks who stay in Metros without an access to a nearby Hill-station. The wedding can be a refreshing change & quite out-of-the-box.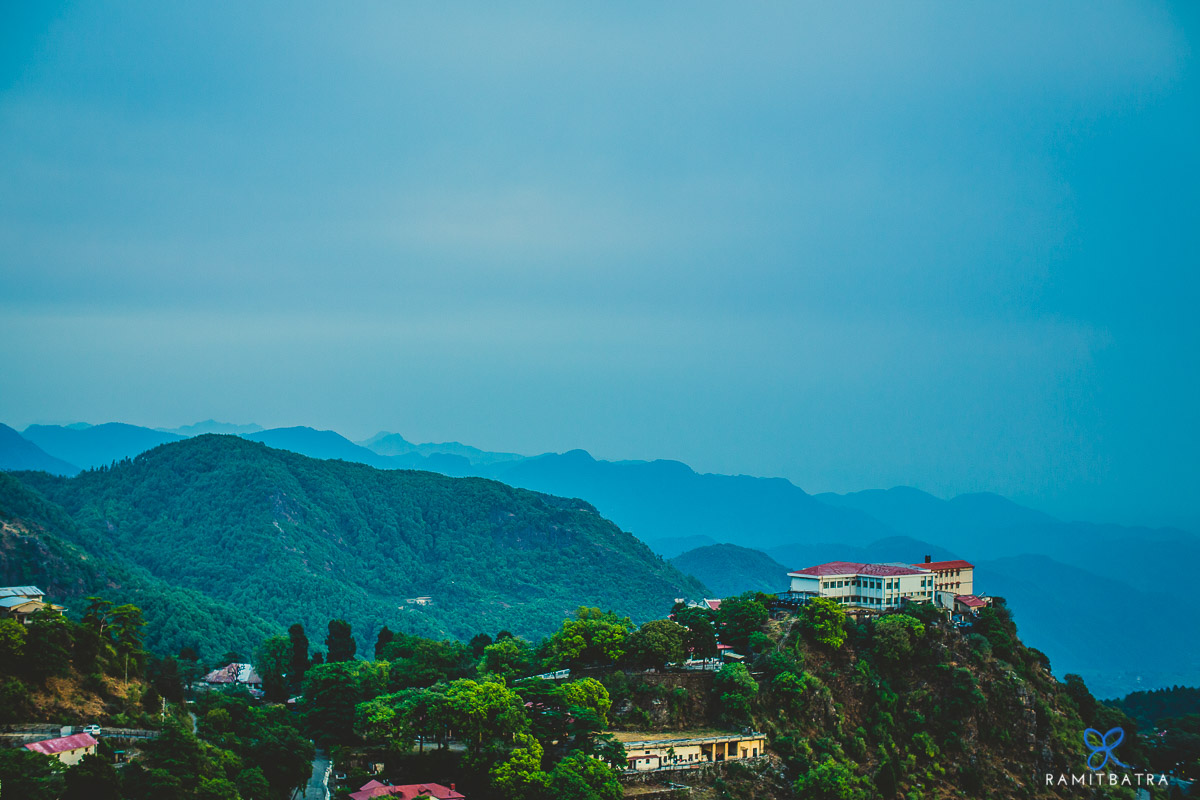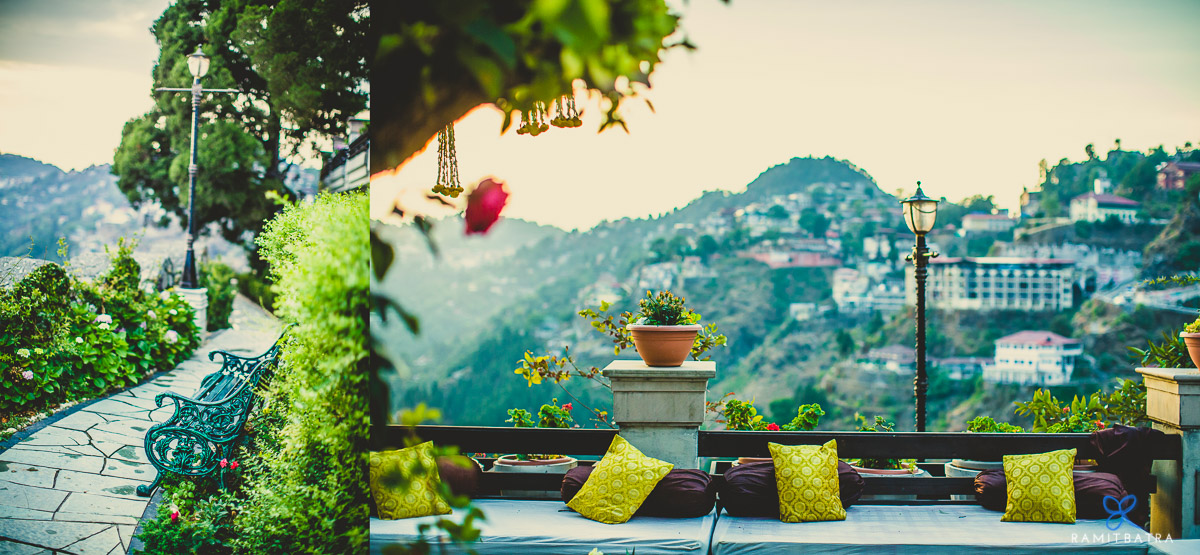 Favourite Resorts for pre-wedding photoshoots & destination weddings in Mussoorie : JW Marriot Mussoorie Walnut Grove Resort & Spa & Royal Orchid Fort Resort
Advantages of hosting a destination wedding in Mussoorie: Superb Weather & a wonderful change of environment for those staying in Metros in the West & South.
Logistics: Dehradoon is the main city with an airport & a railway station, which is about 50kms (2hrs away by road). It is a scenic drive from New Delhi, and I would highly recommend taking a Volvo or booking a convoy of vehicles for the duration – it makes things really easy.
What to Keep in Mind: The weather change on any particular day can be really drastic. So you would need to plan to dress up in layers. The Afternoon can get really warm in the sun, while still cold in the shade. And the evenings are perfect for bon-fire guitar sessions & some chai or whiskey.
Best Time of the Year to host an event: Early-April To mid-July is the perfect time to be in the Hills. Dec-Feb are the Snow months, and great if you want a crazy-cold-snowy wedding (and are ready to dare the road-blocks). Late-July – September are the rainy monsoon months and best avoided.
3. Udaipur – The city of Lakes & a hot spot for Big Fat Indian weddings
Palaces, Castles, Lakes & sheer Luxury. That is what Udaipur truly is. Udaipur is also known as the 'Kashmir of Rajasthan' – it might sound cheesy, but it truly is the most romantic Oasis in India. I will leave it on the pictures to do the talking.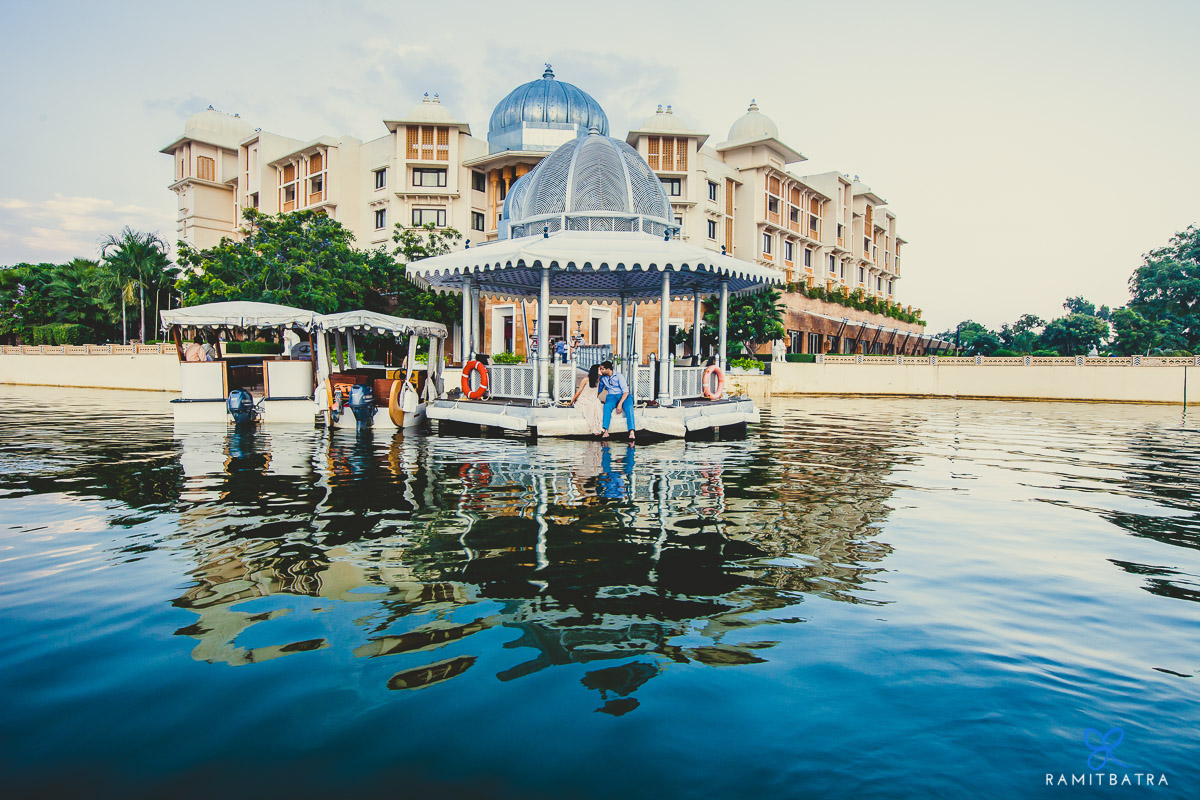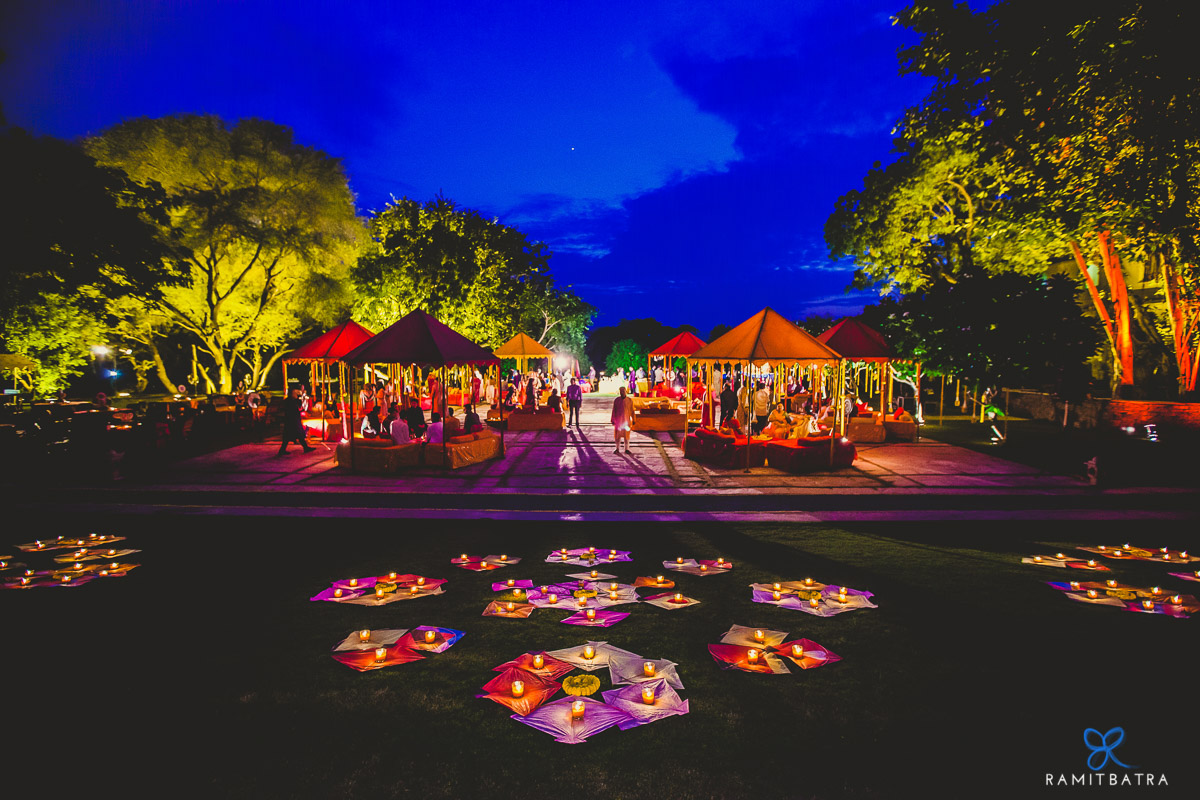 Favourite Resorts
 for pre-wedding photoshoots & destination weddings in Udaipur :
Taj Lake Palace
, Oberoi Udaivilas,
Leela Palace
, Lalit Laxmi Vilas, Trident Udaipur to name a few.
Advantages of hosting a destination wedding in Udaipur: Clear blue skies, fairy-tale palaces, temples & gardens, narrow lanes strewn with stalls, and the glory of the Rajasthan state surrounded by the lush hills of Aravalis, mirror reflection of the beauty in Lake Pichhola – Making udaipur a fascinating blend of sight, sound & experiences. There is so much to do in Udaipur, and you will have the advantage of keeping the guests busy with Tours & Activities throughout the day.
The Baraat taking the water-route to reach the Wedding destination is something that you will not be able to do anywhere else in India.
Logistics: Udaipur is well connected by air with Delhi, Mumbai, Ahmedabad, Jaipur and other major cities. You can choose to have a quaint wedding in the most beautiful property in the middle of Lake Pichhola – Taj Lake Palace. It has about 75 rooms & suites, and is perfect for a close-family wedding.
For Bigger wedding parties, You can choose to have two hotels – say Leela Palace & the Trident to host about 350 guests, and have separate ceremonies at different venues. It adds to the Flavor of being around the lake – when you use the Boats to hop from one resort to the other – the mere 5-10minutes on the lake are both picturesque and relaxing!
What to Keep in Mind: Udaipur has really narrow lanes leading to most of the hotels
Best Time of the Year to host an event: September – March are the most pleasant months, with bright sunny days & cool evenings perfect to relax by the lake or on top of a hill. The summer is unbearable and best avoided.
4. Hyderabad – Get spoilt in the city of Pearls & the home of the Nizam
Interested in Hosting a wedding in Hyderabad? I have two words – Falaknuma Palace.
All metros like Delhi, Mumbai, Kolkata, Chennai, Bangalore – have a lot of beautiful hotels where you can get married. All these properties have beautiful gardens or banquets and exquisite rooms. But there are very few properties in India, which allow you to actually stay where the Kings & Queens once lived. I will talk about Umaid Bhawan Palace, Jodhpur, but again – Let's talk about the Nizam's Palace.
Falaknuma – meaning 'mirror of the sky' is an iconic all marble palace built in 1893 by Nawab Vaqar-ul-Umra, the Nizam's prime minister, before it was taken over by the Nizam VI. The palace is full of VO monograms after its first resident. An English architect combined Italian and Tudor architecture to give Falaknuma its unique look. Its stained glass windows throw a spectrum of colour into the rooms. The famed 101 seat dining table is treat in itself. Burroughs and Watts from England designed two identical tables, one of which is in Buckingham Palace and the other in the Falaknuma palace. The palace has the largest collection of Venetian chandeliers & the most unique Jade collection in the world. Its rare treasures including painting, statues, manuscripts, books, carved balustrades, photographs and even electrical systems and switchboards – are a magnificent part of history which you can be a part of.
If this is not enough to convince you about Falaknuma, Salman Khan's sister Arpita tied the know with Aayush Sharma at this Palace. Salman Khan is believed to pay 2Cr rupees for the two-day celebration, booking the entire property including the 60 rooms & the Nizam Suite – and making sure nobody gate-crashes the party.
Oh and while you are there – don't miss the Buggy Ride – perfect for those Facebook Selfies!

Favourite Resort for pre-wedding photoshoots & destination weddings in Hyderabad : Taj Falaknuma Palace, Hyderabad.
Advantages of hosting a destination wedding in Taj Falaknuma: Great hospitality by the Taj Group. In-house events team. You can host a small wedding party in the palace itself. For large weddings, and more than 100 guests, you can look for the four other Taj properties – Taj Krishna, Taj Banjara, Taj Deccan & Vivanta by Taj and have a hassle-free celebration & the perks of a destination wedding.
Hyderabad also gives some wonderful options for pre-wedding photoshoots – like the Golconda fort, Yacht club etc.
Logistics: Hyderabad is a mainstream Metro, well-connected with all major cities in India. Except for traffic jams in the city – while you are hopping from your Hotel to the wedding venue – you will not face any issues with planning your wedding & the logistics of the entire event.
What to Keep in Mind: Hosting an event at Taj falaknuma needs a lot of advance planning. It's great for weddings with under 80 guests. Being a small property – it can sometimes be difficult to get more than 20-30 rooms during the months with great climate (especially weekends). And if you plan to host 250+ guests in hyderabad, you would need to book other hotels and plan the travel. A drive from the City to Taj falaknuma during peak office hours in the evening can sometimes take upto 2hrs.
Best Time of the Year to host an event: October – March are the most pleasant months. Weather in hyderabad is wonderful during this period. The evenings are mostly cool, and give you a great opportunity to host outdoor functions without worrying much about rain or dust storms.


5. Jaipur – The Pink City, a short drive from Delhi.
 Jaipur – the largest city of Rajasthan is the ideal tourist location. It is a quintessential part of India's Golden Triangle – a must-do city in the International Tourists' list, coming a close second only to Agra – because of the Taj Mahal. It is a beautiful city, full of blushed pink palaces & forts, bustling markets famous for handicrafts, silver jewellery, semi-precious stones, fabric with rajasthani prints, and hidden gems for antique collectors.
If you are hosting a wedding in Jaipur – you won't have to worry about your guests during the days – for the options – be it sightseeing, shopping or attending cultural shows, plays or concerts that are available to explore are endless.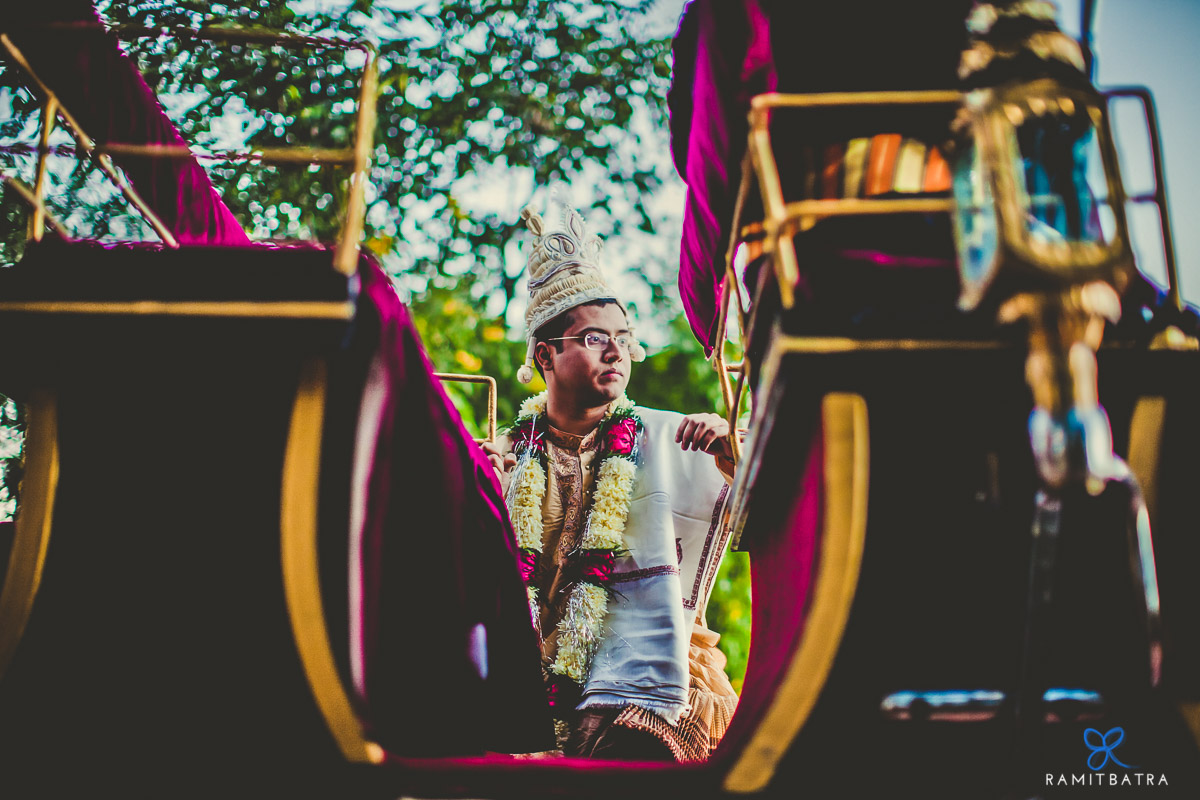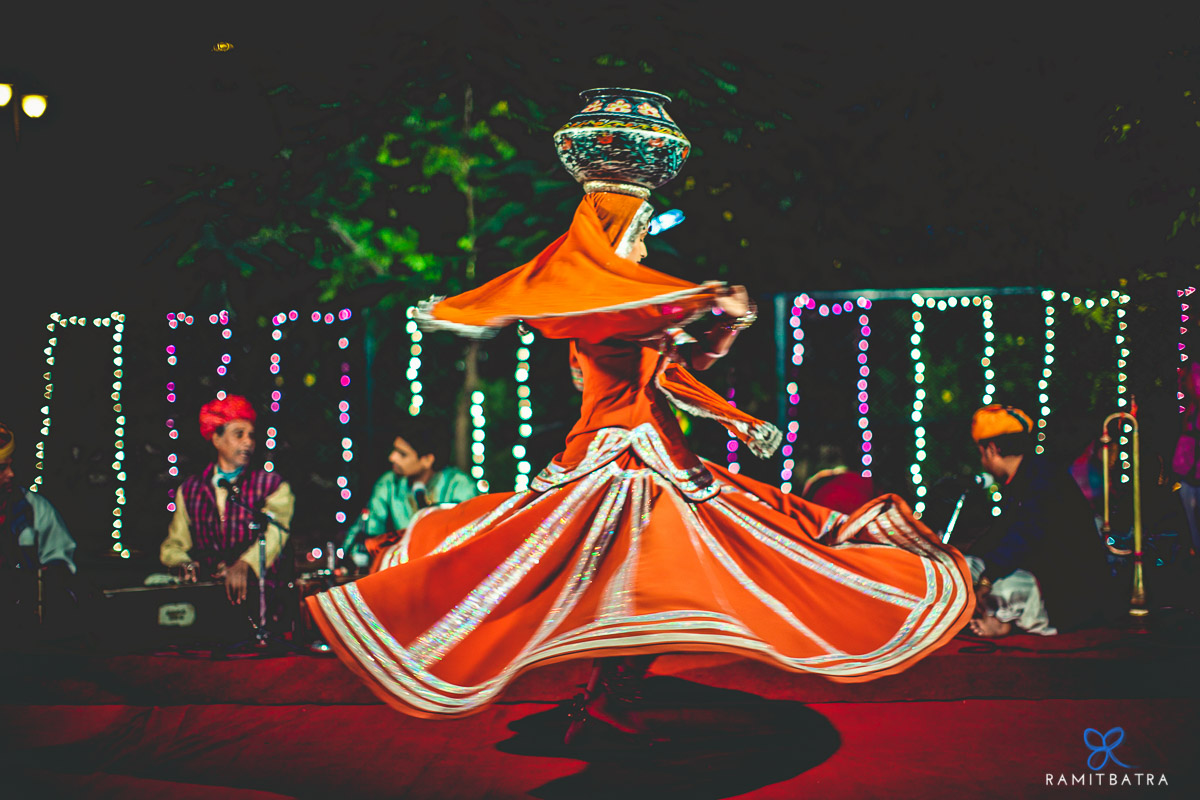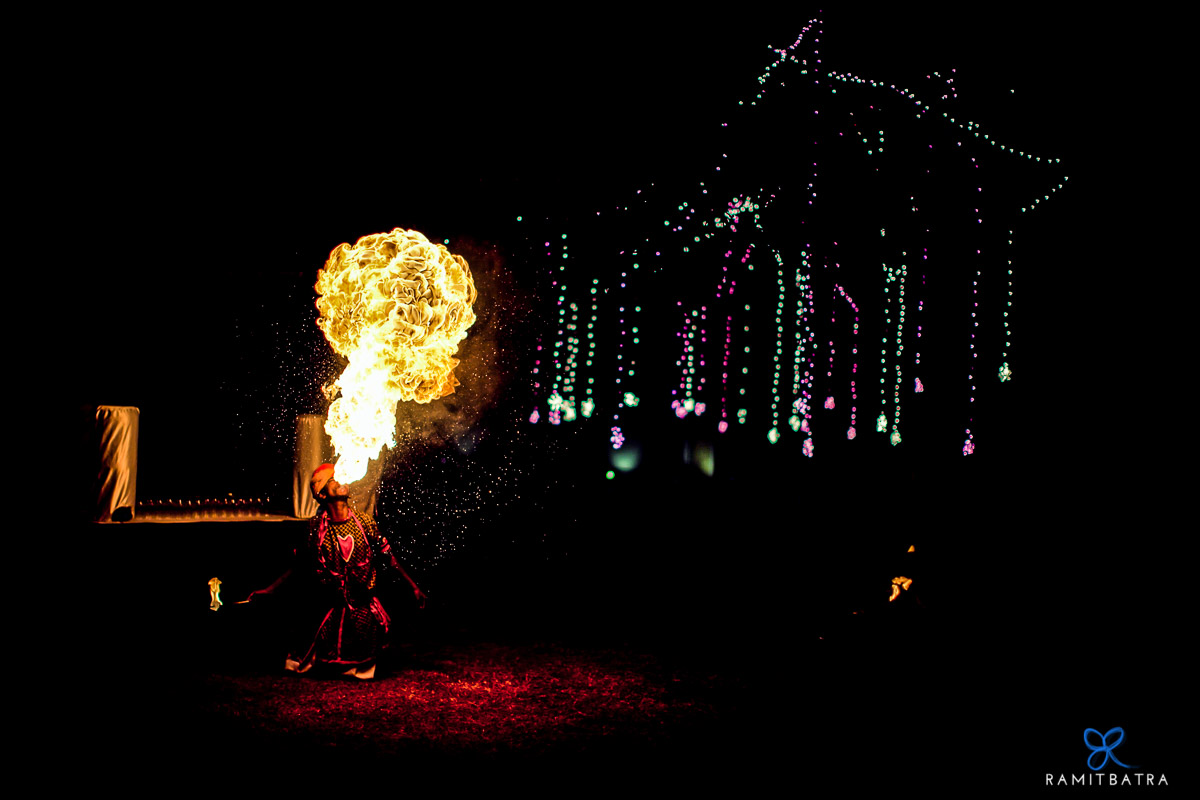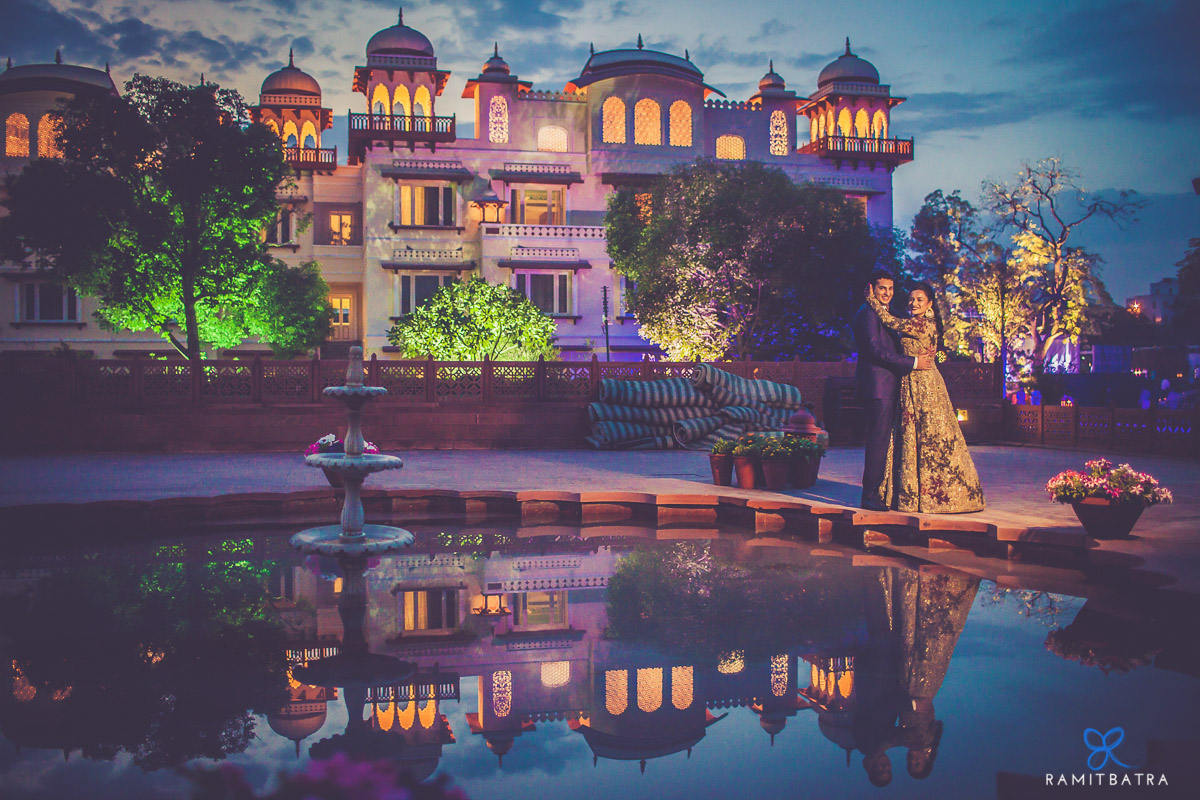 Favourite Resorts
 for pre-wedding photoshoots & destination weddings in & around Jaipur : Taj Rambagh Palace, Jai Mahal Palace,
Samode Palace & Haveli
, Jaipur Marriot Hotel, Hari Mahal Palace, Neemrana Fort Palace
Advantages of hosting a destination wedding in or around Jaipur: The biggest advantage : Proximity to Delhi – which means getting to Jaipur from Chandigarh, Lucknow, Agra, Mumbai, Ahmedabad or other North-West Indian Cities – a breeze. Cheap flights, convenient volvos, and short train journeys in Shatabdi & Rajdhani express trains – make Jaipur a superb place to have a weekend wedding getaway. For the non-ceremony times, there are a host of palaces that can be visited, crazy places for shopping and wonderful spa options at these hotels – making the day full of activities. The proximity also means that you get wonderful options in terms of Photographers, Planners, Decor & Design folks & some really important wedding vendors like – Pagdi-wala (the guys who tie traditional turbans), Mehendi-walis (Henna Artists) and Traditional Entertainers (Folk Dancers, Musicians, Lacquer Bangle Makers, Puppet shows, etc.)
The biggest advantage of having a Big fat indian wedding in Jaipur is that hundreds of wedding guests will be able to drive down from Delhi to attend the wedding, and enjoy a weekend getaway at the same time. It cannot get more convenient than this.
I could actually do a full-post on advantages of having a destination wedding in Rajasthan, but that would be deviating from the topic in hand 😀
Logistics: In-city travel can be a pain. So staying at two different resorts will need to be planned carefully. Reaching Jaipur, however – is really easy.
What to Keep in Mind: Local travel (crazy traffic jams), Terrible heat in Summer, Non-stop freak-rain in March-April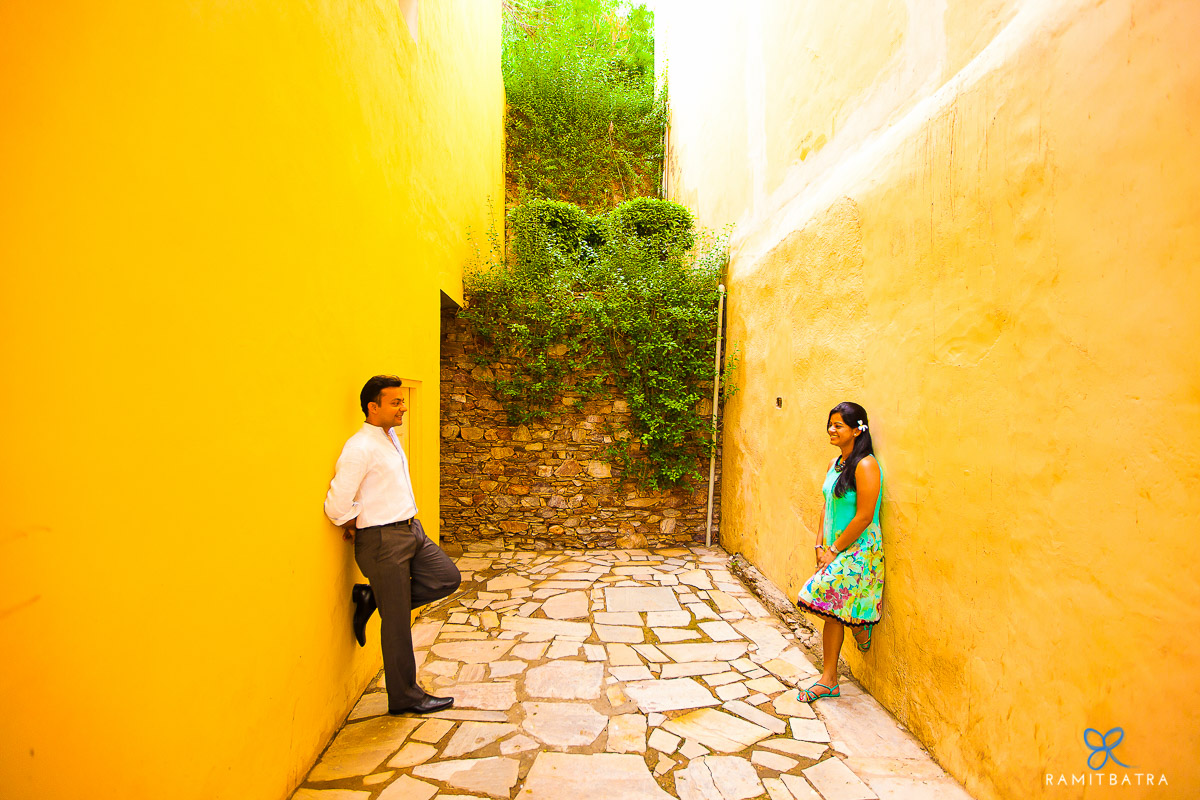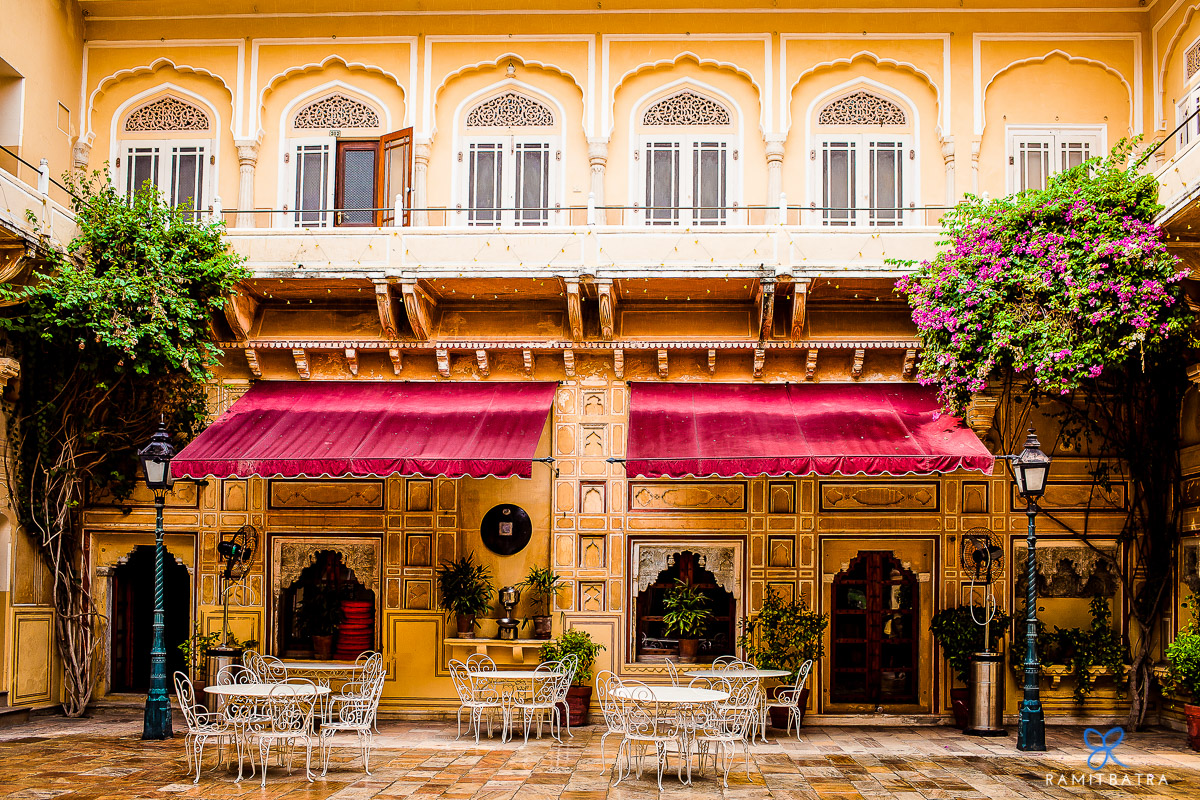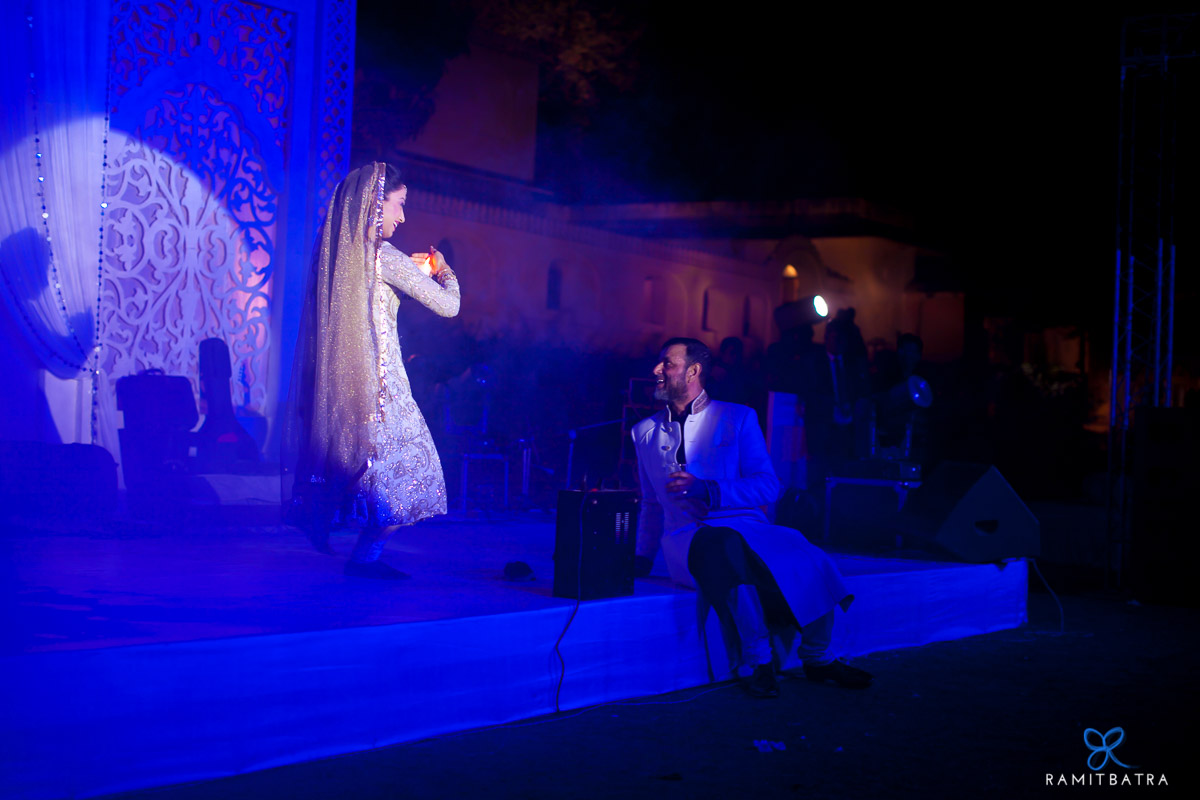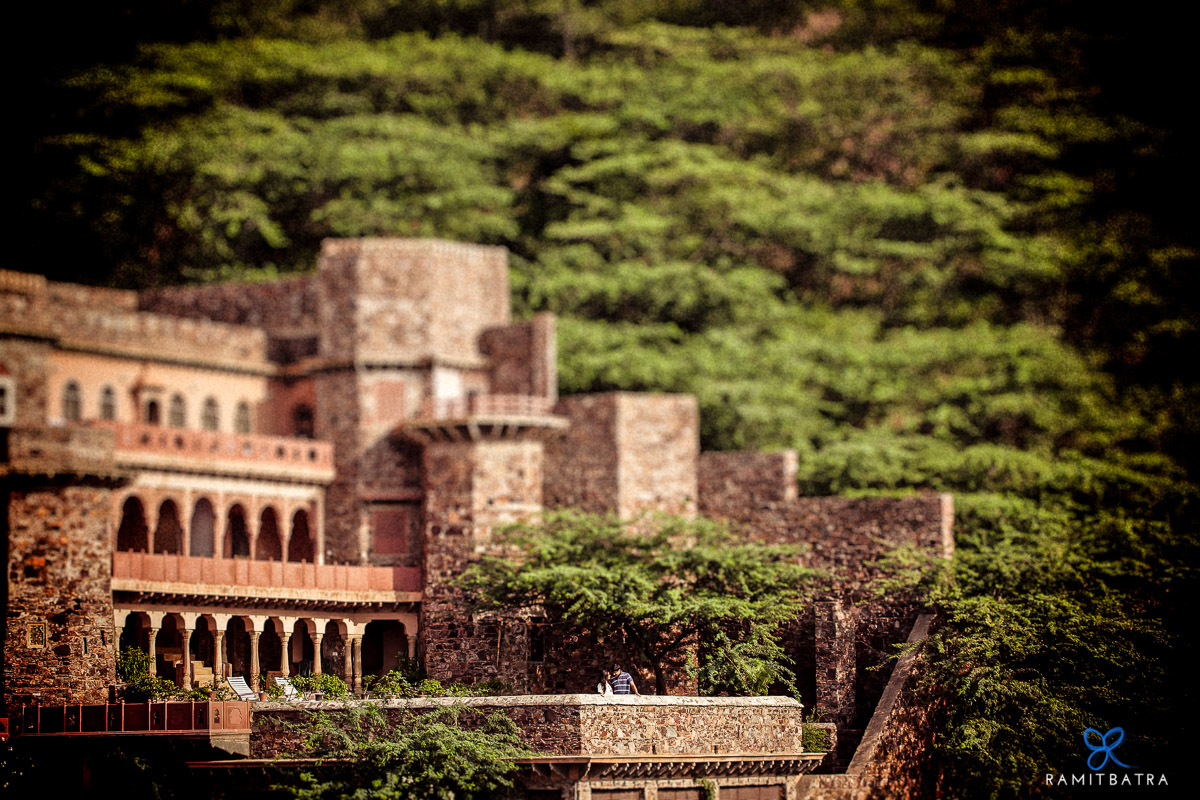 The narrow lanes and steps at Neemrana fort palace make it a beautiful location for Pre-wedding photoshoots & Weddings.
–
If you would like to share your own pointers or notes about the 5 locations, please leave a reply to this post – I would be happy to add more useful information. Also, if you would want to know more about any of these specific locations, or any other destination where I have photographed couples or documented destination weddings – please donot hesitate to get in touch.
---
You might also like
---
---