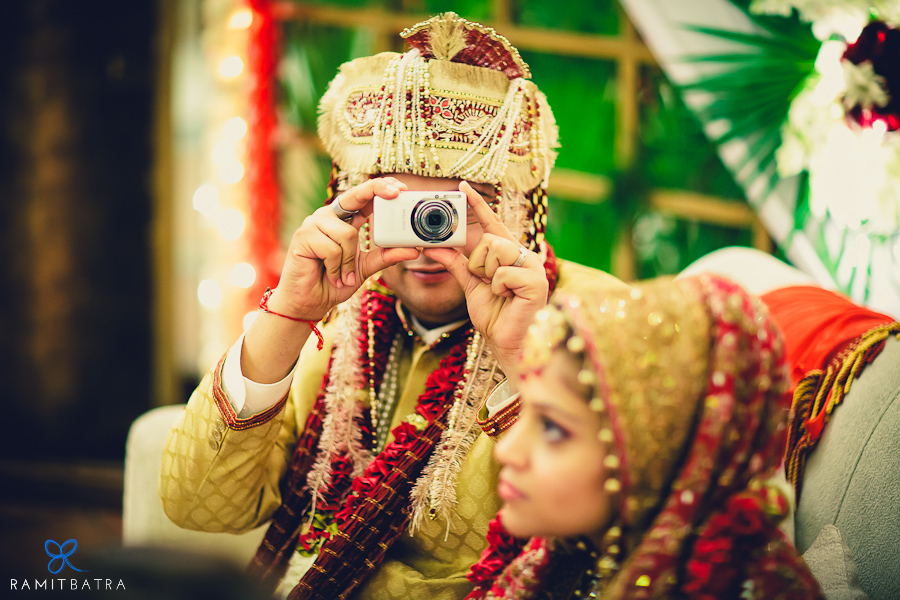 Finding that perfect wedding photographer can be quite a task. With the amount of lists, databases & search results available, it might take you months to go through each one of the profiles. And by the time you have shortlisted one – chances are – your favorite photographer is booked already! Here are just a few pointers that might help speed up the process. This would be highly appreciated by the photographer as well.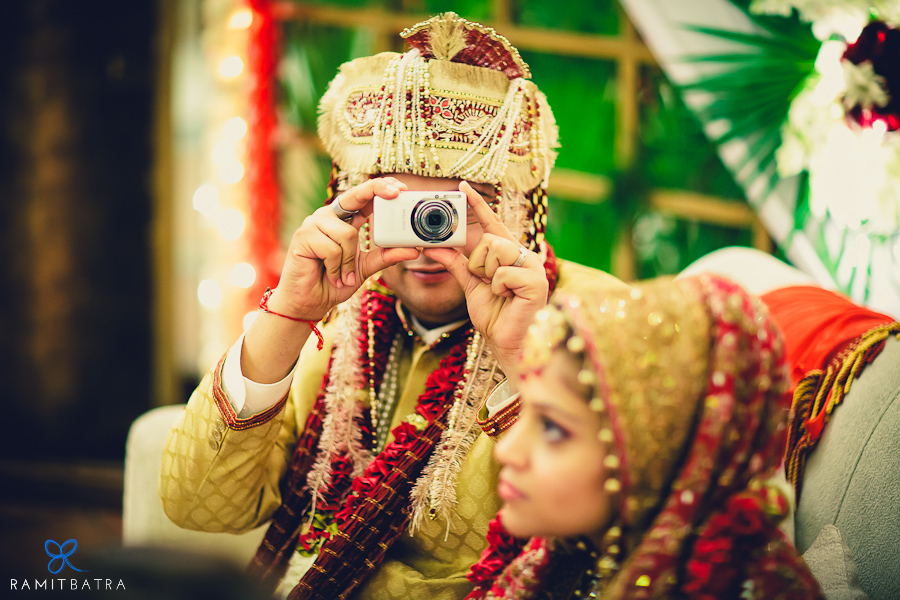 1. What are you looking for?
First of all, you – the decision maker (parents/the couple/the entire family) must know what he/she is looking for. The bigger the decision making group is going to be – the more opinions and confusion it is bound to create. Keep it simple. Speak to a photographer whose style appeals to you. End of story. Google is your best friend. Facebook is also very resourceful. Search for photographers, Look at friends' wedding pictures, ask for recommendations!
2. Equipment? Video? Albums? What about those?
Are you more concerned about Nikon, Sony or Canon equipment being used for your wedding – or the end product? No photographer would use or hold back his best equipment for a project. If they have it. They would use it! If you still want to be sure – ask questions. It doesn't hurt to know. (Examples of Professional & High-end cameras Wedding Photographers use: Canon 5D Mark II & Mark III, Nikon D700 & D800, Sony Alpha 77 & A850) but it doesn't stop at that. (Remember the weakest link in a Photograph is the Photographer, not her/his camera/lens/setting)
Video – err. 'I am a photographer, I do not shoot Video' – get used to this phrase. In India, for a VERY long time, Wedding Photography means – The guy shoots the wedding, gives you an album, a video DVD, some prints,and sits with you and talks about the payments later. Things are different now.
Albums, Prints? – Wait for it. Let's get you a photographer first.
3. I am even more confused. Photojournalism? Destination Wedding Photographer? Contemporary Wedding Photographer? Studio??
When it comes to Photography – each photographer has her/his own distinct style & way of shooting. Some are not sure what category they are into and choose to call them wedding photographers, others end up using the same tags as their favorite photographers. But most of the photographers that you would see over the internet – know what they are doing, and their work speaks what they write.
*Wedding Photojournalism or Reportage style Wedding Photography
Wedding Photojournalists have a "candid, documentary approach – a distinctly artistic vision toward wedding photography. " – WPJA
What to expect: Most wedding photojournalists will give you 200-300 pictures over 5-6hours of photography. Will charge you for extra hours. And appreciate working space.
What not to expect: Group/Party pictures. Posed stage pictures typical of Indian Receptions. Basically, if you might miss the father's sister's best friend's daughter's picture because she just came in for 5 minutes and left without meeting the bride & groom – skip this photographer. 
*Candid Photographer –
Candid photographers in India are the most creative & flexible in terms of budgets, hours & working styles. If you are looking at thousands of pictures of your wedding, and choosing what pictures you want edited,  this is the right person for you.
What to expect: Most Candid photographers will give you 1000-3000 pictures a day of shooting, will be there throughout, and not bill you for extra hours etc. Unexpected ceremony or delay – No problem. This person is with you for the day 🙂 Unedited RAW files – umm, maybe!
What not to expect: Stage/Posed – Reception pictures (unless specifically mentioned). 
*Fine Art, Contemporary Photographer –
A fine-art or contemporary photographer is a bold artist who would try and create artistically pleasing pictures of your wedding. Ranging from beautiful portraits, fantastic details & document the ceremonies as well as any other candid photographer. Each fine-art or contemporary photographer brings in their own creative focus – some are more people oriented, some focus more on details & action.
What to expect: Most fine-art or contemporary wedding photographers would give you 300-400 pictures from a wedding. Most of the photographers would either give you edited pictures or ask you to choose your favorite set for finishing. Most fine art and contemporary wedding photographers are particular about the number of work hours they are putting in. If you are expecting delays, added ceremonies, discuss the same with your photographer.
What not to expect: Just like a Wedding Photojournalist – No Stage/Posed pictures.
**The Studio – 
If you are expecting multiple photographers to cover each and every aspect of your wedding in a candid and/or traditional style, the studios are your best bet.
Skip the three categories I listed above and find the studio near your home.What is a Studio? Any photographer coming with anything more than a Second photographer is a Studio.
What to expect: Everything. From pictures of people entering, talking, looking at each other, eating, drinking, meeting the bride & groom, posed, candid, stage, group – ALL kinds of pictures. All the bells and whistles of a wedding. You want it – They have it. Extra hours, Delays – Don't even think about getting worried by those! You might even have to ask these guys to go home – once the wedding is over.
What not to expect: That's a tough one. A Happy candid/fine-art/contemporary/photojournalist that you might have individually hired to complement their work. No Sir! Most studios will not let another photographer work peacefully. Also, don't expect the quality that you see from an individual photographer. You need to understand that by getting a photography studio – you are not getting a creative individual – but a team, whose skills can range from below average to super awesome. Be prepared for some very average looking & some very good pictures. And huge numbers of those. A lot of air-brushing, photoshop – basically : beautiful model-like skin of bride, groom & the family portraits. A lot of photographers showcase their work, only to send a hired cameraman for your D-day. It helps to understand this 'Studio' like scenario. But then, if you wanted to hire a studio, I am sure you wouldn't  be reading this.
4. Photoshop? RAW Files? Err.. What is all that?
With Digital Photography – the film/negatives was replaced with 'RAW' files. Some photographers choose to shoot in Camera RAW (Camera RAW is not Unedited Jpeg, .cr2, .nef etc are raw files) – because it ensures the highest possible quality and size of the picture at the time of capture. What you finally get is a set of JPEG images which are edited and fine-tuned. This too can vary hugely. Check with the photographer what you want and what you are going to get.
Most photographers give you either of these:
1 A full set of Edited pictures in JPEG, OR
2 A full set of RAW/Unedited JPEG pictures and a select set of Edited pictures as per your preference, OR
3 A pre-selected set of Edited pictures and all RAW/Unedited JPEG pictures, OR
4 A pre-selected set of Edited pictures (JPEG) only.
I personally would be okay with options 1,2 & 3 – based on the style of the wedding photographer. You can decide how much control of the images do you require. But remember, at the end of the day, the quantity of the pictures is not going to matter so much as the whole experience. 10,000 average unfinished pictures vs. 200 fabulous pictures is a choice that only you can make. The number and the type of images is never something that should be compared while deciding a Wedding Photographer. Focus on the image quality. Always.
5. Interesting. What about the Monies? Budgets???
When you go out to shop for furniture or appliances – there are mostly two cases:
One – You go with a fixed budget in mind, buy the Best possible product that fits your bill. Never worry about something out of your budget.
Two – You go out, look at a few things, find the best product, compare that with the rest. And find the Cost vs. Value equation.
Wedding Photography is not a commodity. But Budgets cannot be missed either. Good Candid Photographers charge 25-50k ($500-$1000) for a day's work. A photojournalist, fine-art or contemporary photographer might charge anywhere from 50k-150k ($1000-$3000+) per day (and more!!). A Studio is the best deal, but not necessarily the best value. Most will give you Photography (and all the other add-ons like albums, video and the bling) anywhere from 30-75k a day. The latest trend is to hire a traditional photographer or a studio (for photo & video) in addition to one of the other 3 types of photographers with their own signature style.
6. Payments? Booking??
Don't expect a photographer to hold your dates, just because you sent them an email or spoke to them on phone. Chances are – a few others did the same too. A Wedding photographer will ask you for a booking fee (generally 50% of the entire photography fee) and reserve your date based on that. Most photographers would also take the entire fee amount (yes, 100%) before they have taken even a single picture. (Yes, I am talking about photographers, not studios).
7. Whoa! That is insane.. I love your work but I want some Discounts!
It is better to keep the 'D' word away from a Wedding Photographer. If you appreciate somebody's work – Respect their fees too. (We too have bills to pay!) Opt out, if you think the photographer is not in your budget range. The best way to do so is to drop a message saying so.
8. Okay. All done. Is there a fine print?
Yes, Respect. 
– Don't treat your wedding photographer like a hired cameraman. (If you are looking for those, Studios are your best bet.) But if you are expecting compelling images – Treat a photographer like an artist.
– If you have vendor policies for food/water – inform the photographer beforehand so that they can plan their breaks accordingly.
– If you are hopping venues – keep a separate dedicated Cab/Taxi arranged for your photographer (unless the photographer is taking care of it on her/his own). You don't want your photographer to be stranded at the venue – just because the shared cab/taxi moved away.
– Educate your family about the expectations & the photographer's working style. Wedding photojournalists appreciate that the family doesn't direct them to do/capture things the way they want it.
9. It's been 2 days. When do we get the pictures??
Have patience.
Each photographer has their own timeline. Those who are going to give you edited pictures – will typically take 3-6 weeks to do so. Understand the timelines beforehand and don't put the photographer under pressure to deliver early. It can only push your edit quality down.
10. Nice Pictures. A friend wants to use some in her Office. Can she use it??
Congratulations. You have successfully made it through the Photography aspect of your wedding.  And if you sent an email saying 'We loved the pictures. Thank you' to the photographer, you just made someone really happy. The photographer retains the copyright to all your images at all times. Most photographers will give you personal use rights to your images – which means : you can print, re-print, make albums & books, share on facebook (credits are appreciated) email etc. But you cannot SELL or TRANSFER these images for any commercial or promotional usage by yourself or anyone else. If you are going to have such a requirement – speak to the photographer and discuss the usage. 
11. Albums or Coffee Table Books?
You need to understand that the strength of a good Photographer is her/his pictures. But if albums or coffee table books are high in your priority, do have a look at a sample before you book a photographer.
Some photographers make light-weight coffee table books from awesome book makers like Canvera, Blurb, WHCC etc. while others choose to create Fabulous Leather or Canvas bound albums from book makers like Leather Craftsmen, La Vie, Canvera, Graphistudio etc. Coffee table books are Hard-back, light, and have thicker-than-magazine style pages. A 12×12 60 page coffee table book would generally range between 20-50k ($400-$1000) depending on the quality of the product and the design. A similar album can cost anywhere from 20k-100k ($400-$2000), and 40-60 pages might be the upper limit for such a book! Whatever your taste or liking might be – see some pictures & understand the product before you go ahead and order that through your photographer. Remember – your pictures will make or break an album. Without beautiful pictures, the most high-quality & expensive albums will look cheap.
12. This sounds like so much work!
Finding the right photographer for your wedding should take some time & effort. And why not! Its your big day!! Your wedding photographer is one of those few people that will help preserve the memories of your big day. And after all, the one you chose, shall always be the Best photographer for your wedding. 
–
What I have expressed here is entirely my personal opinion about and understanding of Wedding Photography & experiences to create this post.
---
You might also like
---
---